Sail safely with a terminal software that's friendly and fast
Let's face it: while sailing, disasters may happen. Be it a fire, a man overboard or a pirate attack, these disasters happen and you don't have control over when they are to happen. One thing though that you should be sure to have – and of which you should always have control over – is a way to communicate your distress. You want to send out an alert, and you want it sent now!
Our solution, the gMST, is a software for Maritime Safety Terminals that just lets you do that. It's as simple as pressing a button for a few seconds, and the Rescue Care Center is now aware that you're in trouble.
Unlike the Inmarsat-C system, our software interface is intuitive, friendly and let's you do what you need to do ASAP.
Because that's what you need from the Safety Terminal that could save your crew's lives.
As of now, our software has concluded the PoC phase, with a joint collaboration with an hardware manufacturer for the prototyping. With some final approvals to be achieved, our software will be entering the commercial phase soon.
Maritime Safety Data Services
Inmarsat has for many years offered maritime safety services on the existing Inmarsat C system, as part of the Global Maritime Distress and Safety System (GMDSS), and have now built a new BGAN safety service, called the Maritime Safety Data Service (MSDS), that will supersede Inmarsat C. MSDS provides Inmarsat C like distress and safety facilities that allows MSDS capable FleetBroadband (FBB) User Terminals to interact with Maritime Rescue Coordination Centres (RCCs) and to receive Maritime Safety Information (MSI) from registered information providers. Other services, both Maritime Safety and commercially oriented, are envisaged to eventually be made available under the auspices of the BGAN Maritime Safety and Data Services server. The Maritime Safety Terminal (MST) performs all mariner interactions with MSDS, including the processing of vessel generated Distress Alerts that are initiated by the dedicated distress button.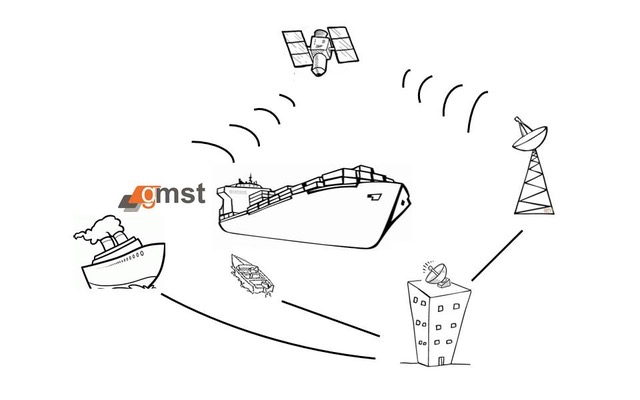 Features
The Maritime Safety Terminal is an on vessel mariner's interface to the safety services now supported by the recently developed FleetBroadband Maritime Safety Data Service (MSDS). It interfaces with any existing or future FleetBroadband User Terminal platforms (such as FB500, FB250 or FB150). MSDS represents the evolution of existing Inmarsat Safety Services to take advantage of the packet-switched infrastructure of the BGAN system.
The MSTs and the Rescue Care Centers or the Maritime Safety Information Providers may communicate with each using the following features:
Distress Alerting. 
Distress, Urgency and Safety Priority messaging ship-to-shore and shore-to-ship. 
Promulgation of Maritime Safety Information (MSI) to MSDS enabled FBB UTs from MSDS connected MSI providers (MSIPs) and from theInmarsat C system.
Distress Priority Chat facility between a vessel's UT and a Rescue Coordination Centre (RCC) Chat facility between all registered RCCs that are Logged-in to the MSS. 
Distress Alert Test Configuration and Activation.
Hardware Requirements
The Generic MST Software supports a flexible hardware platform MST, that is an independent processing and storage unit, capable of displaying a windowed GUI, e.g. a PC (desktop or laptop) with hard disk data storage. This type of MST will attach to an MSDS capable FB UT via an Ethernet link, to a dedicated physical port or via a wireless LAN connection. The UT will initiate an alarm if the MST disconnects for any reason. 
A versatile hardware platform is required, with the following high-level specifications: 
Panel PC, Intel Atom, fanles
Linux
Touchscreen
LAN
Built-in audio speaker
Optional keyboard
Dedicated Printer (wired or wireless) that is exclusively for GMDSS/SOLAS
The above specification will ensure that the chosen platform will be capable of supporting the current planned MSDS features and will easily accommodate future enhancements.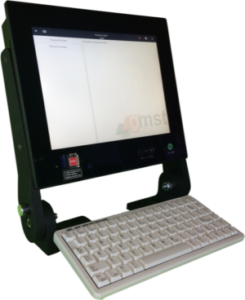 Touch UI Framework
This subsystem is implemented on top of a modern graphical touch capable hardware. The subsystem provides a User Interface for the MST that supports gestures and touches events. It also includes a number of components and widgets that, when combined, provides to the MST's operator with different screens or windows, such as:
 Start-up
 Distress Alert Information update
 Priority Message reception
 Priority Message submission
 Chat
 Message logs
 MSI setup
 MSI reception
 MSI search
 MSI pull
 MSI logs